British Melodic Rock at its best… almost impossible not to hit replay as soon as the closing notes have faded into the distance… Look below the surface and there's a burgeoning British Melodic Rock scene bubbling away nicely, 'The Awakening' might just be the rally call we need to take it over the top once more! Steven Reid, Fireworks Magazine
FUGITIVE are working with Rock Legend RUSS BALLARD on new music for release soon. Until then…
LATEST EP 'Not Guilty' is available from all major download and streaming sites
PLUS ORDER IT NOW on CD EP+ from our online shop and all live shows.
Recent album – The Awakening – available here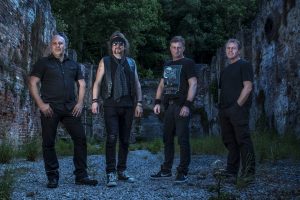 FUGITIVE are:  (left to right) David / Mikee / Pete / Ranko
Michael Angel (vocals/guitar)
Pete O'Connor (drums)
Ranko (lead guitar)
David Haskayne (bass/vocals)
Fugitive 2022 is a changed band, a new band – fresh, energised – the music we are making excites us more than ever before – we trust that it'll get you moving. We invite you to come with us on our journey, check us out and share the ride.  We'd love to hear what YOU hear in our stuff. We want that connection with you all. Our goal is to head out from Liverpool across the UK and beyond to meet you all out there celebrating life – living today – now, here in the present. We might be slightly older than some, but we are ALIVE and KICKING and we damn well want to rock!
Likened by press to Dokken, Night Ranger, Whitesnake & Autograph, Fugitive released the acclaimed album 'The Awakening' (Amazon rock chart #10) in April 2019 and have since attacked the chart with multiple successful singles (reaching #5 twice). YOU CAN GET THIS ALBUM NOW FROM OUR WEB SHOP or even from Amazon and other major stores!
The 4-piece have enjoyed success on the UK's live circuit both as a headline act and as guests to the likes of Blaze Bayley & Hand Of Dimes. They continue to be a popular festival band with their high energy and visually engaging show, having graced the likes of Hard Rock Hell AOR, Wildfire, Gravity Fest, HRH Ibiza, TMR RockFest, Rockwich Festival, SAVFest Festival to name a just a few.
Fugitive are now hard at work writing the follow up to 'The Awakening'. Recent months have seen us working with rock legend RUSS BALLARD writing and producing some new music so keep your eyes peeled on our social media pages for more updates and news about new releases… He called us up and gave Rock and Roll to us! We'd like to pass on the honour and give it back to you all… if you'll join us?
We getting back out there with our NOT GUILTY run of live shows throughout 2022, and plans are afoot for a tour for 2023 to promote the new music.
File under:
Dokken, Autograph, Night Ranger, Whitesnake, Scorpions.
Location
LIVERPOOL, England
Formed: Sometime during the Jurassic period     Re-born: 2018 for The Awakening      Re-invigorated seeing Pete Joining the band: June 2020 through to present day!!!